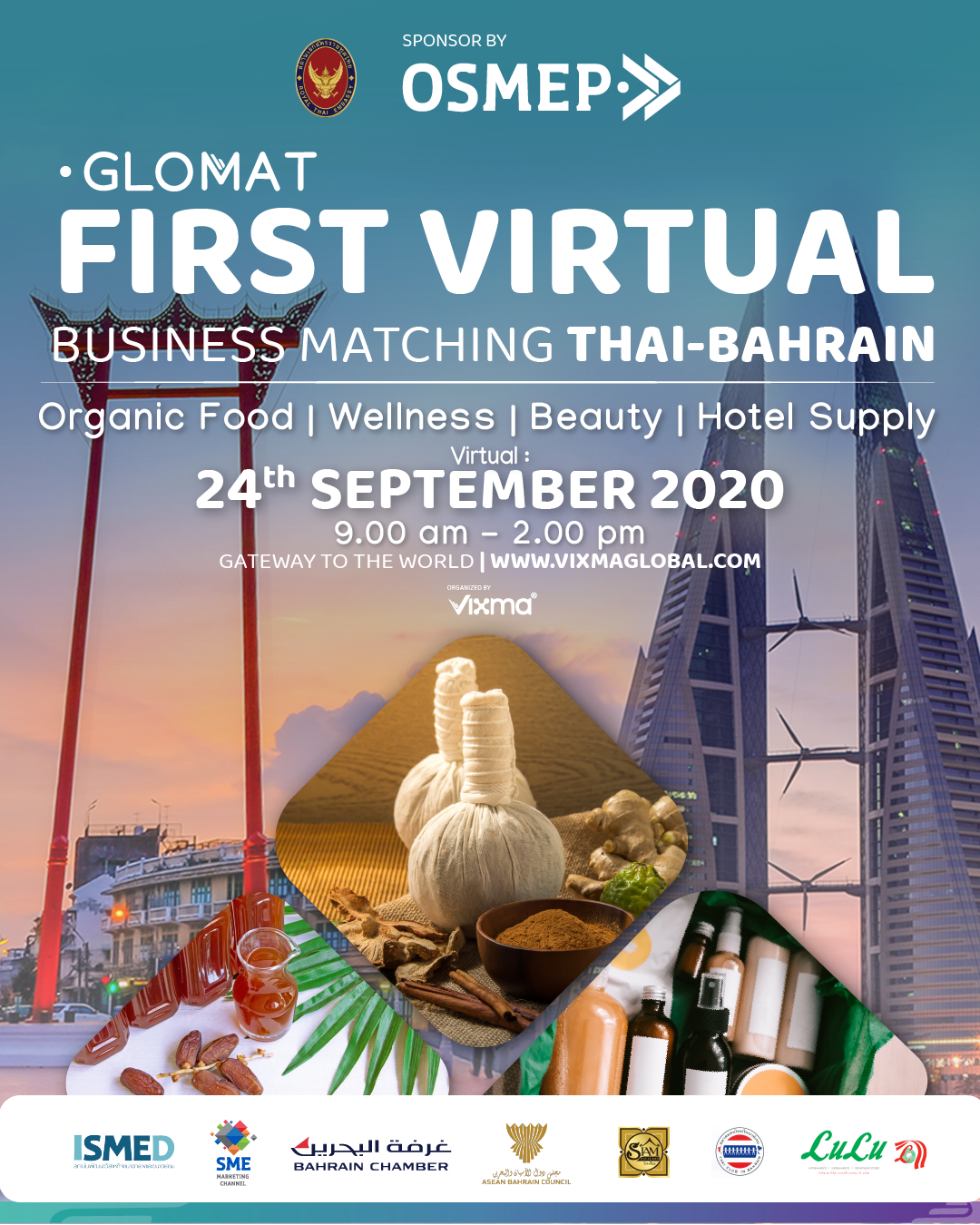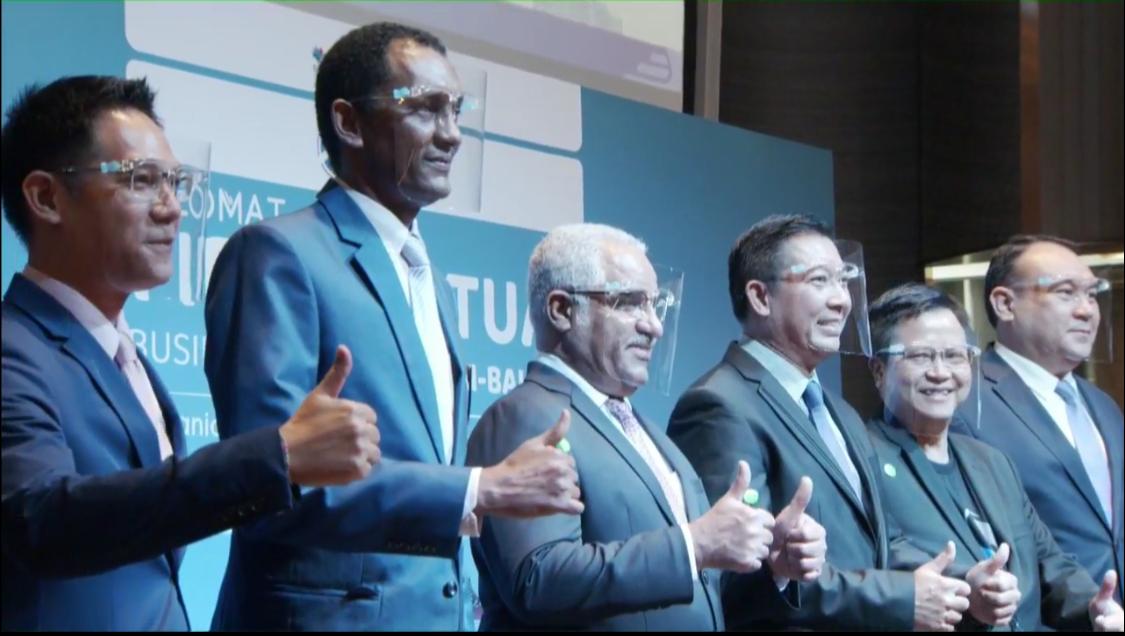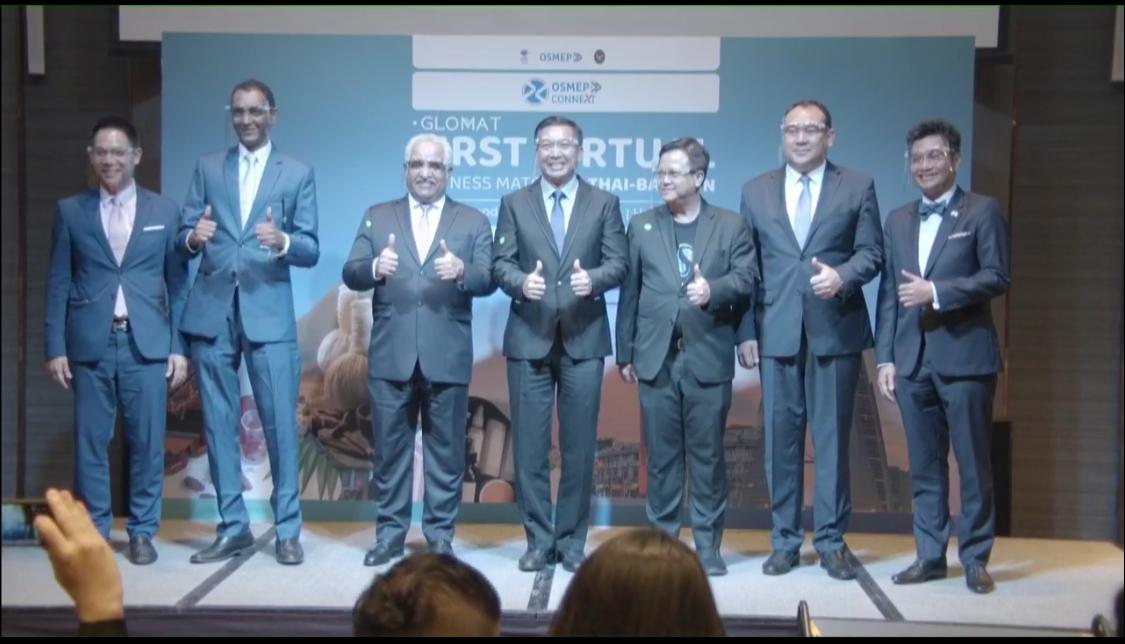 The Royal Thai Embassy, cooperated with the Office of SMEs Promotion (OSMEP) Thailand, Institution of Small and Medium Enterprises Development of Thailand and G-Motif Group Co.,LTD, Bahrain Chamber of Commerce and Industries, ASEAN-Bahrain Council as well as Thai Club in Bahrain, successfully co-organised the First Virtual Business Matching (B2B) event between Thailand and Bahrain on 24 September 2020. This online business matching event offers solution, so-called "VIXMA" platform (vixmaglobal.com) which combine the actual business matching event (in Thailand) and online business matching (in Bahrain) together.

There were 51 Thai traders and entrepreneurs from 4 sectors: Organic food, Beauty, hotel supply, and spa & wellness and 125 companies registered through VIXMA from the Bahrain side. Both sides had successfully matched their businesses with potential partners, with the result of 41 successful business matches on that day. The possibility of business deal could be reached 100 million Thai baht.


During the opening ceremony of the said event, the welcoming speech givers from the Thai side are Mr. Wachira Kaewkor, Acting Director of Data and Situation Unit of the Office of SMEs promotion, H.E. Mr. Ahmed Abdulla Al Hajeri, Bahraini Ambassador to the Kingdom of Thailand, Mr. Nazer Fadol, Political, Economic and Media Section Officer, Economic Development Board of Bahrain, and M. Kritbodee Ruengrujira, CEO of VIXMA Global Company. The welcoming speech givers from the Bahrain side are H.E. Mr. Thanis Na Songkhla, Thai Ambassador to the Kingdom of Bahrain, Mr. Shaker Al Shater, CEO of Bahrain Chamber of Commerce and Industries, Mrs. Feryal Abdulla Nass, Vice Chairman of ASEAN-Bahrain Council. Their keynote address at the event were mainly focusing on the the business continuity amid the current economic challenges and COVID-19 pandemic, the use of the technology and innovation in doing business today, the excellent relations in all dimensions between the two countries, the readiness of the Thai traders to expand their products to the Middle East region, the ease of doing business in Bahrain as well as the benefit and incentives of the ecosystem offered by Bahrain to foreign investors.
Due to minor technical problem for short period when the online matching was occurring, the organiser in Thailand has made decision to arrange another online business matching session on Wednesday 30 September 2020 and Thursday 1 October 2020 for those interested buyers in Bahrain who faced issues while registration or failed to join the online business matching.